The Goonies' rules:
1. Goonies Never Say Die
2. I'll Never Betray My Goon Dock Friends
3. All Goonies Are Equally Important and Loved
4. Where ever the Goonies are there shall be found the Goonie group hug

Pledge:
I will never betray my Goon Dock friends,
We'll stick together till the whole world ends,
Through heaven and hell and nuclear war,
Good friends like us will stick like tar,
In the city or the country or the forest or the boonies,
I am proudly declared one of the Goonies!
Offical Seal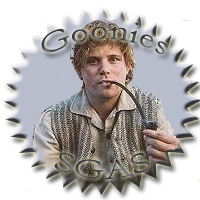 Offical Goonie Hug Icon

Our Logo